Starting out as a family-owned operation in 1982, dnata catering is now one of the largest in-flight catering companies in Australia. From serving one customer to becoming the main catering supplier for Emirates and over 35 other airlines nationwide, dnata catering's success comes from a commitment to sourcing fresh ingredients and adhering to high food safety standards.
Craig Cole, business manager for the Brisbane unit, says this commitment is core to dnata catering's success.
"Airline catering has changed. People now want fresh, seasonal food sourced locally with the same quality of service we've always been renowned for."
Craig has been with dnata catering for 22 years, and has seen a lot of change in both the airlines they serve and the internal processes his team adhere to, "We produce over 480,000 meals per week out of dnata catering's 10 catering kitchens for around 250,000 flights annually."
Operating ten full-scale commercial kitchens means dnata catering must ensure impeccable safety standards at each stage of food preparation.
Operating nearly a dozen full-scale commercial kitchens means dnata must ensure impeccable safety standards at each stage of food preparation.
Challenges to food safety
The reputation dnata catering has built in the airline industry stems from rigorous processes that reduce the risk of compromised food quality. They're ISO 22000:2005 certified, meaning they regularly demonstrate their ability to meet customer needs while maintaining statutory safety requirements. Every Australian unit also organises regular in-house training, ensuring all staff are involved in maintaining food safety standards.
"As it stands, our policy dictates that food preparation must take place within certain time and temperature parameters. The longer an ingredient is out of refrigeration, the less time our team has to prepare a dish from it," says Craig. "We also test our incoming stock to this temperature/time parameter. If it doesn't meet our quality standards, it's quarantined."
Refrigeration is the other challenge to preparing food in suitable conditions. The Brisbane unit has 13 chillers and four freezers, storing hundreds of thousands of dollars' worth of stock. Historically, dnata catering has always operated with a labour intensive process towards monitoring temperature in these facilities.
"Prior to working with Testo, we had to manually test the temperature in each storage space every eight hours. This wasn't enough and it certainly led to unnecessary waste," Craig says.
"A few years ago one our freezers broke in between inspections – all it took was 6 hours for entire room of stock to defrost and fall outside of our food safety parameters."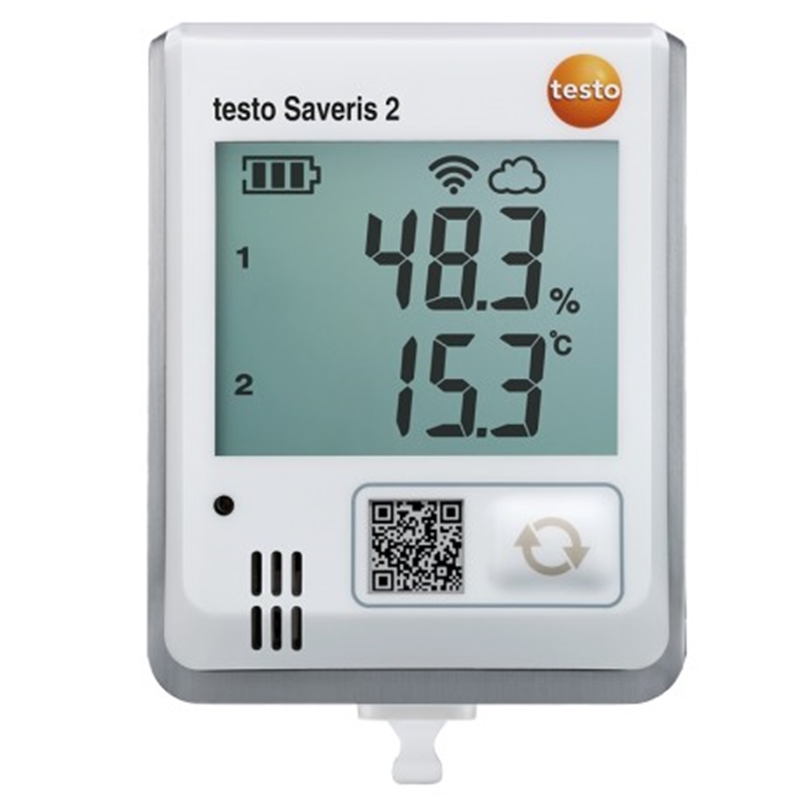 Testo's temperature monitoring device logs air temperature and core sample temperature separately, ensuring quality managers are certain that food is stored in adequate conditions.
Testo's temperature monitoring solution
The catering unit now uses the testo Saveris 2 to monitor air, and samples temperatures in every storage room. This gives the dnata catering team greater peace of mind that there is a foolproof system in place to help maintain their high standards for food safety.
"Testo's equipment has enabled us to improve. The Saveris 2 device tests our cold facilities every 15 minutes, with temperature data sent to key team members. We're aware that our staff need regular access to the fridges and freezers, so we've set the testo Saveris 2 to log different temperatures for the air [10 degrees Celsius] in the cold room and individual samples [5 degrees Celsius]. If temperatures fall outside these parameters, we receive an alert. We also receive an alter confirming that temperatures have returned to normal" says Craig.
"It's made the storage process less of a worry. It's also simpler – no more time-consuming manual testing."
For more information about how Testo can help your catering facility, contact the team today.
Please follow and like us: