Food safety isn't just a box to be ticked – even the mere suggestion of compromised quality can be enough to drive customers away from a business. Restaurants, retail outlets and consumable goods wholesalers across the food supply cold chain need control over safety standards to be successful.
Environmental health officers play a critical role in maintaining the stringent auditing and quality assessment processes laid out in the Australia & New Zealand (ANZ) Food Standards Code. But to fulfill this vital function, they need industry leading instruments.
The role and powers of environmental health officers
Environmental health officers ensure businesses meet legislative food safety obligations. Controlling quality and fair trading practice involves auditing organisations' food safety practices and educating them on how to better comply with the ANZ Food Standards Code.
When performing these duties, the Australian Institute of Food Safety specifies that officers have the powers to:
Enter a business' premises to investigate whether a food safety offence is being or has been committed.
Analyse food intended for sale and processing equipment, and take samples from the business environment to determine underlying food safety risks.
Examine or copy process compliance records, and take visual recordings of the premises for record-keeping.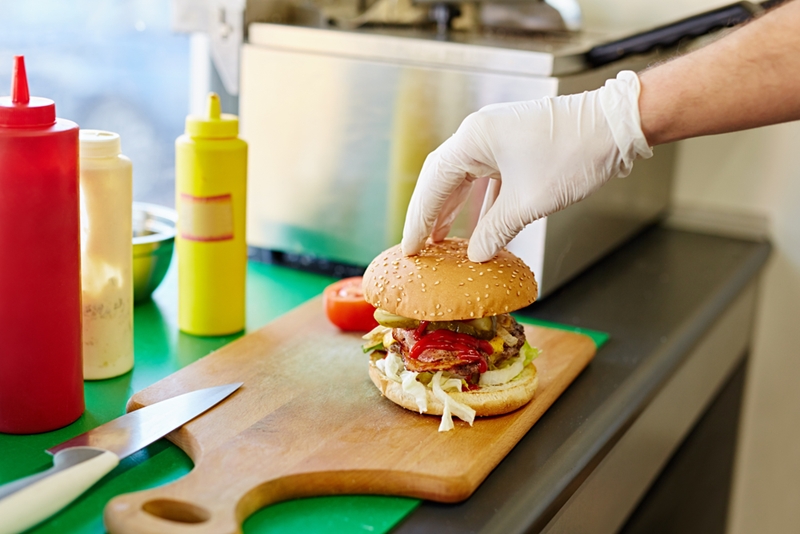 If officers discover any issues relating to food safety or a business' quality control, they can seize goods, vehicles, equipment or packaging. An environmental health officer can also issue on-the-spot fines for legislation breaches, or take the matter further through the courts.
How do food safety officers test goods against compliance standards?
Audits have long been essential to food safety practices. However, while the digital age has changed how we use and interact with technology, environmental health officers have not followed the example of other sectors, like finance, in digitising data gathering during audits.
The most important environmental parameters that can compromise food safety are:
Temperature.
Humidity.
Light exposure.
These elements must be controlled in food production, storage and retail to meet ANZ Food Standards Code requirements. For example, the Code specifies that perishable food should be stored in temperatures less than five degrees Celsius, or 60 degrees Celsius and above. Any food stored outside of these guidelines for too long is considered unfit for consumption.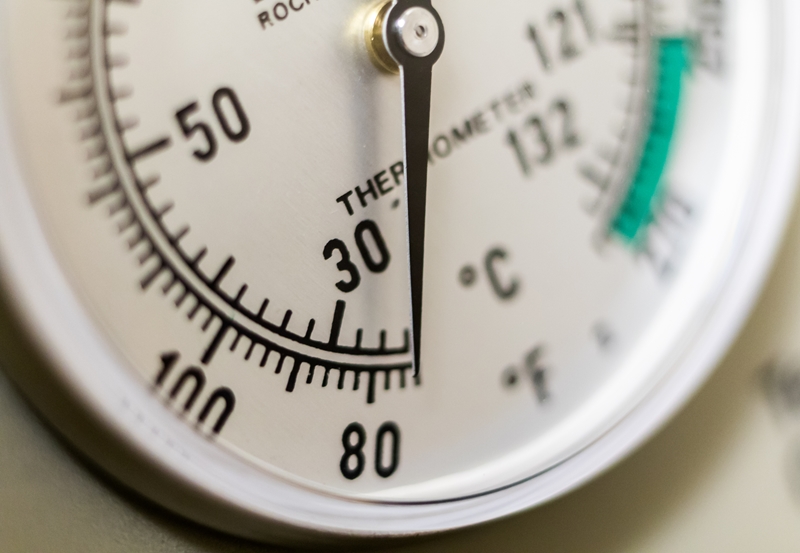 ANS Food Standards Code specifies the ideal temperature ranges of food safety.
To test for these important factors, environmental health officers use instruments like thermometers, probes and data loggers. And while these solutions are pivotal to accurate testing, the fault in many testing instruments lies in the ongoing reliance on manual data entry. Even advanced digital solutions can be compromised by human error when entering details from a reader to a computing device.
That's why a truly modern solution offers data recording and storage as an ingrained feature.
Testo's range of temperature assessment solutions
Testo Australia boasts a range of temperature measurement instruments that help compliance officers control the quality standards of food production and storage safety:
Core temperature
Testing the core temperature of perishable goods is important to determining that the food item is as safety compliant as surface readings indicate. Probe thermometers are key here – as long as the instruments aren't intrusive and damage product quality.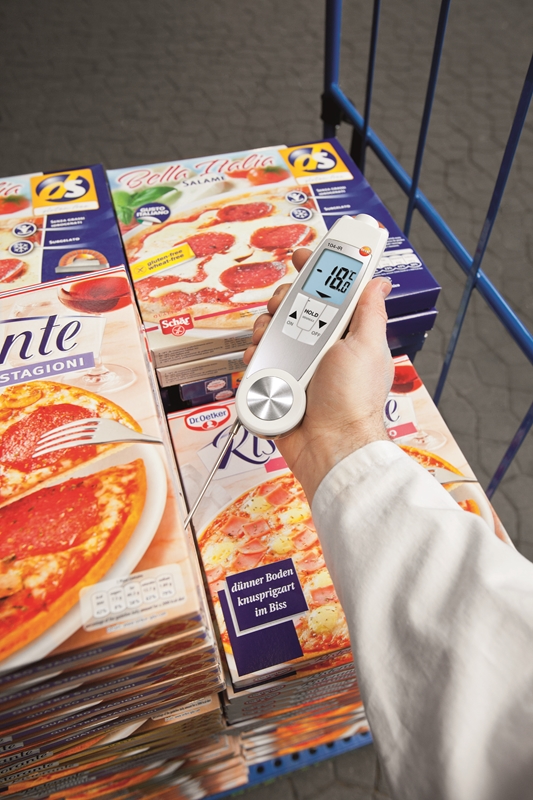 Testo's 104 IR thermometer uses probe and infrared technology to assess food safety compliance.
The testo 106 food thermometer and testo 104-IR probe thermometer offer individuals a reliable core temperature testing solution that minimises aesthetic damage to food items. Testo's 106 is HACCP certified and can record up to two temperature measurements per second for more efficient safety testing. Testo's 104-IR thermometer, meanwhile, is a robust instrument designed to IP65 waterproof housing specifications that combines a non-intrusive probe with an advanced infrared laser pointer for easier surface temperature measurements.
Surface temperature
Surface temperature doesn't just indicate whether food items are safe to eat – it also reveals information about the ambient storage conditions. This dataset is the first and most basic port of call for health officers' assessments. However, minimal physical contact between testing instruments and consumable goods is important to reducing the risk of germs spreading.
Testo's 104-IR thermometer and the testo 830-T1 use infrared laser technology to scan the surface conditions of food in storage or during production to gauge temperature conditions. Both the testo 104 and Testo's 830-T1 thermometer are equipped with high-precision 10:1 optics which improve measurement data accuracy.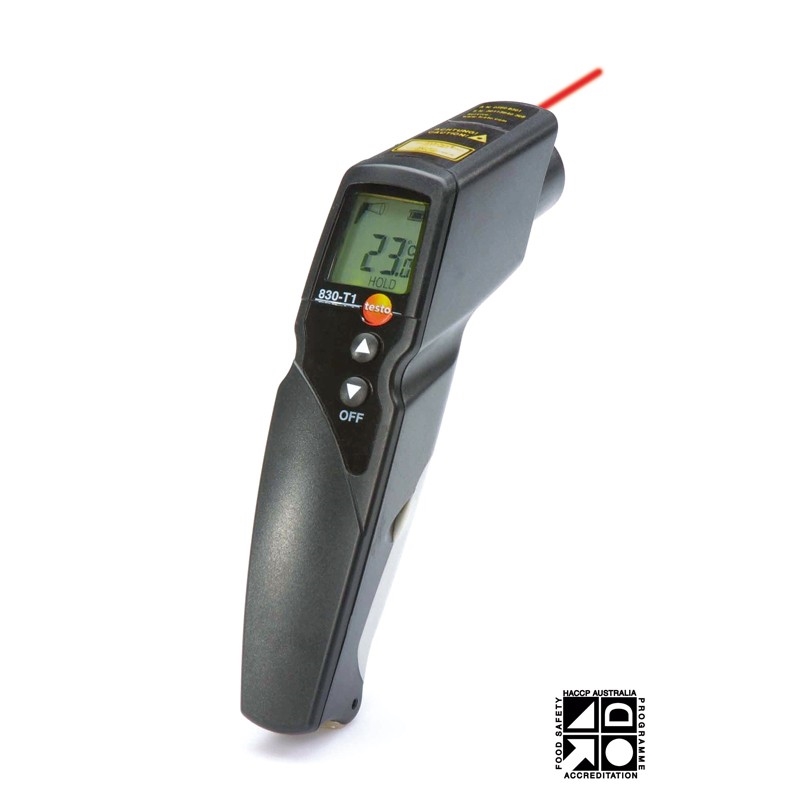 Testo's 830-T1 is one of the most advanced infrared solutions on the market.
Ambient temperature
Finally, testing the air temperature of storage or production spaces is crucial to guaranteeing food safety. The testo 174 T mini temperature data logger is ideal for continuous monitoring and is capable of logging up to 16,000 readings for improved ongoing analysis. The easy to read display makes checking compliance parameters possible with just a glance.
Who are Testo Australia?
We have worked with food businesses nationwide and across the supply chain in developing quality control solutions that meet ANZ Food Standards Code regulations and state legislation. Our food safety instruments combine sophisticated testing with simplistic data storage. Designed by food safety experts for improved food safety expertise, Testo's solutions can help you make food compliance excellence inherent to your operations.
Want to ingrain better food safety auditing processes to reduce your risk of non-compliance? Reach out to Testo Australia's team – we can find the ideal quality control kit for your needs.
Please follow and like us: