Measuring and optimising the performance of ventilation systems should be a paramount concern for any business. Keeping people inside a workplace comfortable and healthy, ensuring air conditioning is using energy efficiently, and making adjustments where necessary can prolong the life of your system and save on maintenance and electricity costs.
Maintaining a complicated HVAC system hasn't always been easy, but with the advent of new digital tools, technicians can work faster than ever before. With the testo Smart VAC Set in the toolkit, gathering accurate measurements is a breeze.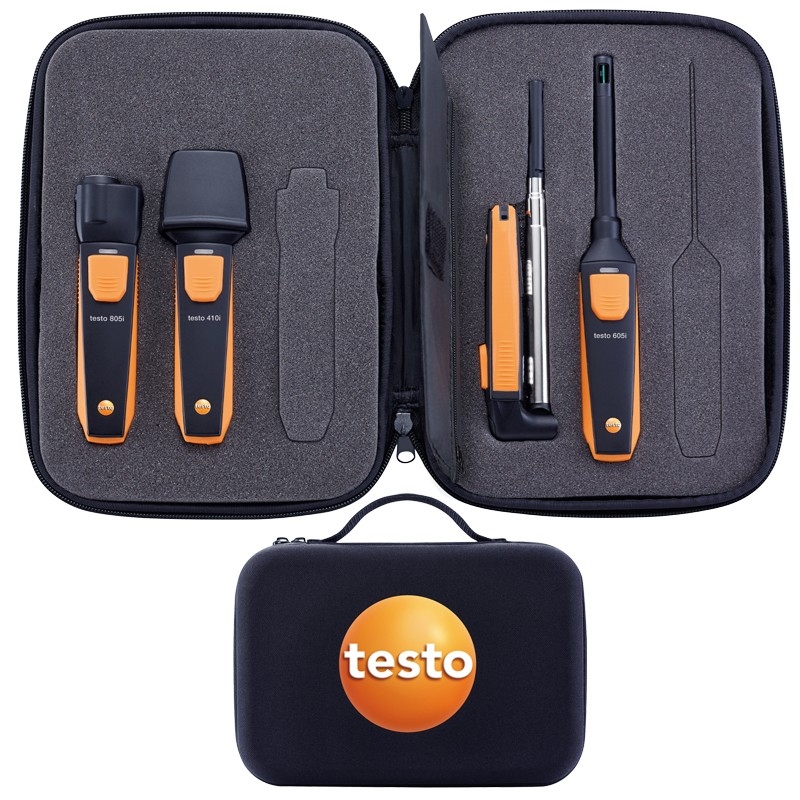 What's in the Smart VAC Set?
Collected as a comprehensive HVAC measurement and calibration solution, the testo Smart VAC Set features four important tools to get the job done:
testo 405i thermal anemometer: Allowing for precise measurement of air velocity, volume flow and temperature, the 405i features a 400 mm telescopic probe to assist with hard-to-reach ventilation ducts.
testo 410i vane anemometer: Designed to allow easy measurement of air velocity, volume flow and temperature at outlets and grilles, the 410i offers terrific functionality in a compact form small enough to fit in a pocket.
testo 605i thermohygrometer: There's more to HVAC systems than just air flow – the 605i measures humidity and temperature in rooms and ducts, helping to identify areas at risk of damaging and potentially harmful mould growth.
testo 805i infrared thermometer: The final piece of the Smart VAC Set, the 805i measures temperatures of walls, as well as components within air conditioning systems. Coupled with the 605i, more effective mould susceptibility can be calculated.
The testo Smart VAC Set features four important tools to get the job done.
Putting the 'smart' in Smart Tools
While the relatively simple design of each of the items included in the Smart VAC Set may seem basic, the instruments themselves are anything but. The secret to their effectiveness lies in their connectivity with the testo Smart Probes mobile app.
Rather than building additional features into the tools themselves, we have leveraged the technology present in every modern smartphone to offer greater functionality without the need for more devices. Once synced with our Smart Tools, your mobile device serves as a screen to view measurements, which can then be compiled into reports and exported to PDF or Excel files for convenient sharing.
Our goal at Testo is to provide technicians with the best measurement and maintenance tools possible. For more information about how the Smart VAC Set can help make your life easier, get in touch today.
Please follow and like us: