The expectations for advanced digital gas measurement instruments have gone beyond simply recording accurate results. Now, an intuitive user experience and the ability to collate and process data within the same unit are key to offering a market-leading solution. Achieving this balance isn't easy, however. It means developing a reliable instrument with advanced features that remains flexible for different applications in a variety of industries – especially heating system maintenance.
That's what makes Testo's 300 flue gas analyser unlike anything else in the market – it ticks every box in an advanced measurement solution, capable of fulfilling the requirements of any user. Here are the five features that make the testo 300 so unique.
1) Intuitive operation
Before using a flue gas analyser instrument, users should be confident in how it works. Contemporary digital solutions need to be optimised for the user experience – that's why the testo 300 has been developed with intuitive, Smart-Touch technology.
The instrument is equipped with a five-inch HD display, instantly making operation simpler. Designed with the best features of commercial smart devices, the testo 300 gas analyser operates just like a phone. This ease-of-use extends to when on standby mode, meaning it's always operational when needed and making it the most user-friendly solution on the market.
2) Easy administration
The beauty of digital measurement solutions is being able to collate and process data easily and in the way you choose. Testo's 300 measurement solution makes that possible with unique menu options and simplified data presentation modes. Flue gas analysis is tracked using smart software that's easily configurable to the needs of the user. This data can also be displayed as a graph or in table form, offering a range of insights to aid expert analysis.
3) Turnkey functionality
When a solution is ready to use out of the box without the need for time-consuming training, this automatically translates to efficiency gains for technicians and clients alike. With the complete testo 300 analyser kit (including flue gas probes, unique testo software and instrument case) heating system servicing and testing becomes a simple activity. Similarly, versatile additional probes, connectable with three gas measurement sensors, makes switching between recording different gas parameters seamless.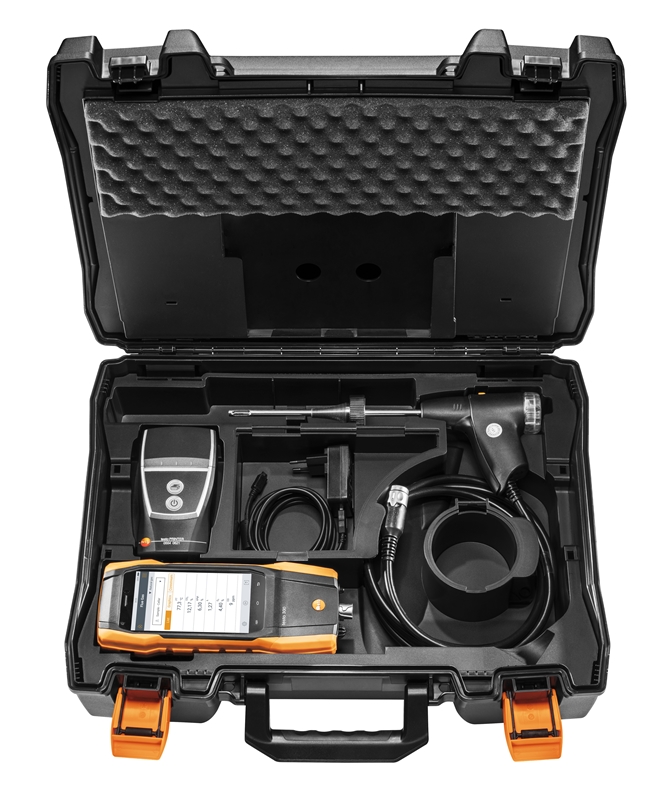 The full testo 300 kit is everything a heating system technician needs to accurately measure and record key data.
4) Smart data reporting
The endless possibilities offered in a digitally interconnected environment mean the instruments heating system technicians use to need to integrate into their workflow. Gone are the days of manually compiling flue gas data and analysing it at length to draw actionable insight – Testo's 300 measurement instrument automates the entire process.
Reports containing information on measurement values and customer applications can be drafted onsite within the testo 300 flue gas analyser. This data is customisable for all users, allowing anyone to generate an easy-to-use report on whatever dataset is needed. From there, reports can be emailed through wireless connection to other smart devices, or stored within the instrument for later access.
5) Resilient design
All the smart measurement software in the world will do little, however, if the flue gas analyser isn't up to the rigours of day-to-day operation. Once again, the testo 300 measurement solution stands apart from other instruments as uniquely able for any application. A scratch-proof display is protected by exchangeable protective film and sunk into the instrument to reduce the risk of damage. The Testo's housing unit is also robustly designed to weather shock impact. This, coupled with varying warranty periods, means users can access a solution meant to last and last.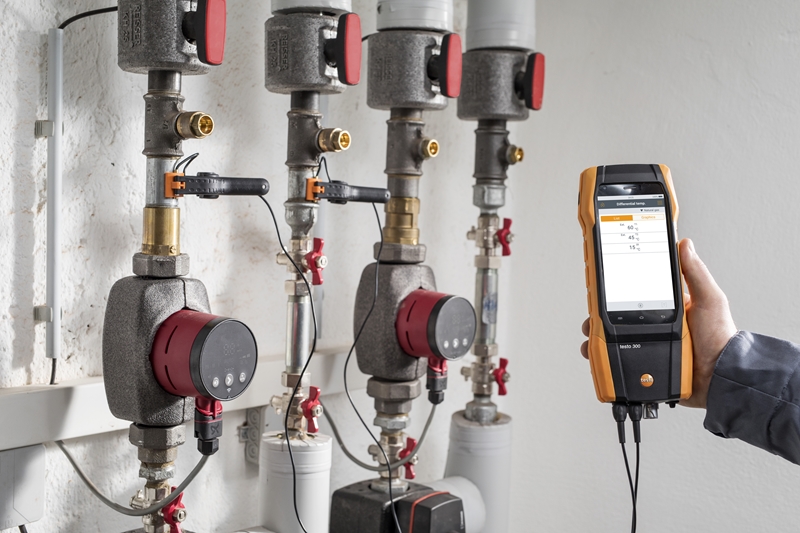 The testo 300's robust housing unit make it ideal for any application.
Using the Testo's 300 analyser, users spanning a variety of industries have a single advanced solution for all heating system flue analysis. This marks a unique and innovative step for gas measurement that could shake the sector for a long time to come. To enquire about the availability of the amazing testo 300 gas measurement instrument, reach out to the sales team!
Please follow and like us: