For electricians, the multimeter is an essential piece of equipment, but even non-professionals may occasionally find themselves in need of this useful tool. Testo's family of digital multimeters comprises three unique models, offering various levels of functionality to meet any user's needs.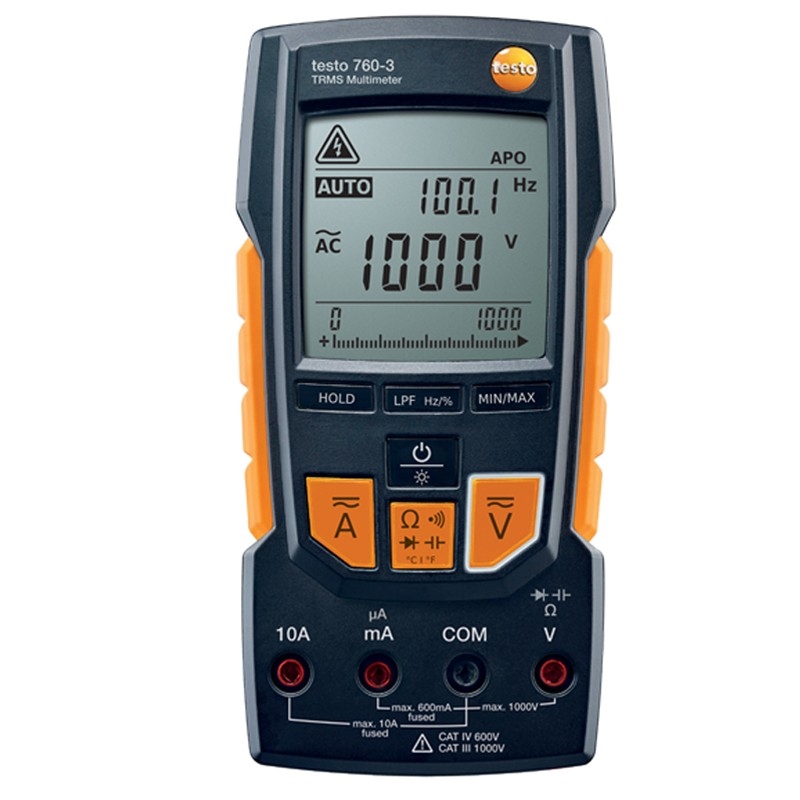 Choosing the right multimeter
Testo's 760 range is designed to put every measurement you need right at your fingertips. Each of the three devices – the 760-1, 760-2 and 760-3 – features a clear, backlit display to make measurement reading easy, and IP 64 protection against damaging conditions. Beyond appearance, however, there are key differences to consider before selecting the right device for you.
testo 760-1 – The entry-level digital multimeter, the 760-1 is a terrific all-purpose option for general use. Capable of most standard measuring tasks, the instrument also makes measurement taking easier by detecting the correct parameter through the socket assignment without the need for user input. Incorrectly setting a device when working with electricity is obviously not without hazards, but the 760-1 makes the job safer.
testo 760-2 – Stepping up to the next level of digital multimeters, electrical workers will experience the benefits of a wider measurement range. The 760-2 improves the low-end AC/DC current measuring range of the 760-1 from 1 mA to 1 μA, while also boosting the resistance measuring range to a maximum of 60 MΩ. The capacitance measuring range also sees a significant jump, capable of 0.001 nF to 30,000 μF, and the addition of temperature measuring adds extra functionality.
testo 760-3 – The premium option in Testo's range of digital multimeters, the 760-3 includes all the features of the 760-2, with a further advancement of measurement options. AC/DC voltage measuring is possible up to 1,000 V, frequency measuring to 30 MHz, and capacitance to 60,000 μF. While intermittent multimeter users may not have need of such precise ranges, for professionals the 760-3 can't be beaten.
Trusting Testo's multimeter options
The family of testo 760 multimeters covers all the bases, from heavy users to occasional DIY enthusiasts. Along with all the top-tier functionality, the 760 range comes with a two year warranty, providing an extra level of confidence in your purchasing decision. For more information about any of our digital multimeters, get in touch with Testo today, or take a look at our video below for a closer examination.
Please follow and like us: