Improving the equipment we offer to customers is always a high priority, and the introduction of our new line of thermal imaging devices has brought increased efficiency, reliability and accuracy to the tool kits of many HVAC professionals in Australia.
While the hardware of our new thermal imagers has been refined – with adjusted button layout, reduced weight and optimised ergonomic design – the secret to the improvements comes in the form of software.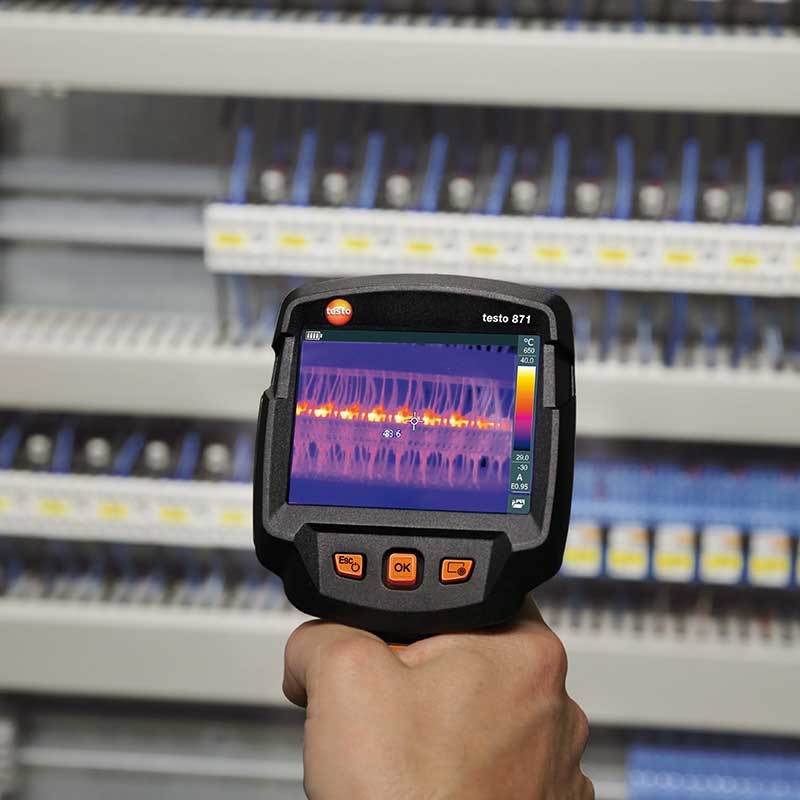 A clearer image with testo SuperResolution
Perhaps the most critical element of a thermal imaging device is resolution. The higher this figure, the better the picture technicians have on their display and the faster they can identify the issues that need to be addressed.
While standard resolution on Testo's new thermal imagers ranges from 160 x 120 pixels (in the testo 865 and 868) to 320 x 240 pixels (in the testo 872), once our innovative SuperResolution comes into play these ranges are doubled.
Greater precision with testo e-Assist
Alongside resolution, emissivity is one of the key aspects of image precision. Calibrating emissivity and the reflected temperature of your targeted object has long been a complicated process, and one fraught with inaccuracy.
The secret to improved thermal imagery comes in the form of software.
With testo e-Assist, however, it's much simpler for technicians to calculate these measurements and receive a more accurate reading. By affixing the accompanying reference stickers to the object being examined, the software driving the integrated digital camera recognises the sticker and automatically determines both emissivity and reflected temperature with complete precision. This functionality is included in the testo 868, 871 and 872 thermal imagers.
Measurement optimisation with testo ScaleAssist
The third key area where software solutions boost the functionality of our new thermal imagers is with regard to temperature scale and colouring of images. Previously, taking accurate thermal measurements was hampered by temperature variance inside and outside the building being examined, making reading specific objects within a target area difficult.
Testo's ScaleAssist function was developed to make this difficulty a thing of the past. By adjusting colour distribution in real time, and calculating the difference between interior and exterior temperatures, the testo 868, 871 and 872 deliver thermal images without the errors that plagued the devices in the past.
Speak to the team at Testo today for more details about the improvements made in our new thermal imagers range, and ensure greater precision on your next job.