Assessing Indoor Air Quality (IAQ) is no simple task when you consider the parameters contributing to ambient temperature, humidity and air flow. These factors include:
Air pressure and turbulence.
Illuminance and radiant heat.
Gas levels, including carbon monoxide, carbon dioxide and oxygen.
Technicians tasked with measuring and logging data on these parameters evidently require a range of instruments to account for the variances in IAQ readings. Correct?
Not anymore. The testo 400 offers unparalleled data monitoring and reporting on each of these factors in one streamlined and sophisticated solution, ideal for any testing application.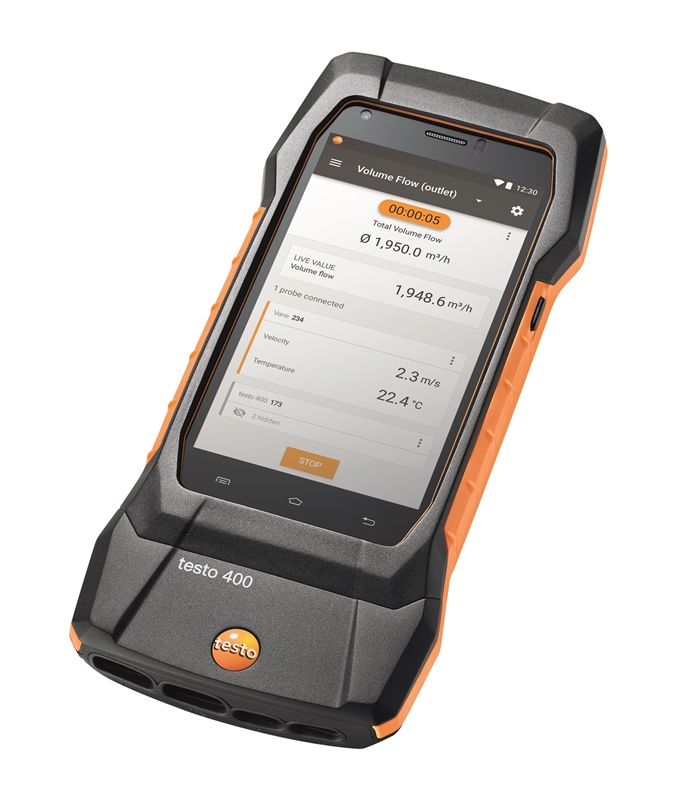 The testo 400 was developed to improve IAQ measurement ability.
What features does Testo's 400 IAQ instrument offer?
The testo 400 solution was developed with one eye on streamlining the time taken for monitoring all IAQ parameters and the other on harnessing the power of easy digital data reporting. With these core ideals in mind, the Testo team devised the following features:
Stored measurement menus and custom evaluation within the instrument allow for smarter data analysis that suits any application. A traffic light principle when collating datasets also reduces the risk of errors and improves measurement accuracy.
Probe heads are interchangeable and can be quickly calibrated without restarting the instrument. This reduces time spent waiting for the instrument to boot up and shut down, which in turn reduces handling time and improves measurement efficiency.
Operators can tailor all completed measurements in branded documents. Users have the ability to add photos and comments to these custom reports, and share them via email or Bluetooth instantly.
It's never been easier for technicians to record IAQ conditions and connect end users with this data. Testo's 400 solution is a true step into the digital age or facility management.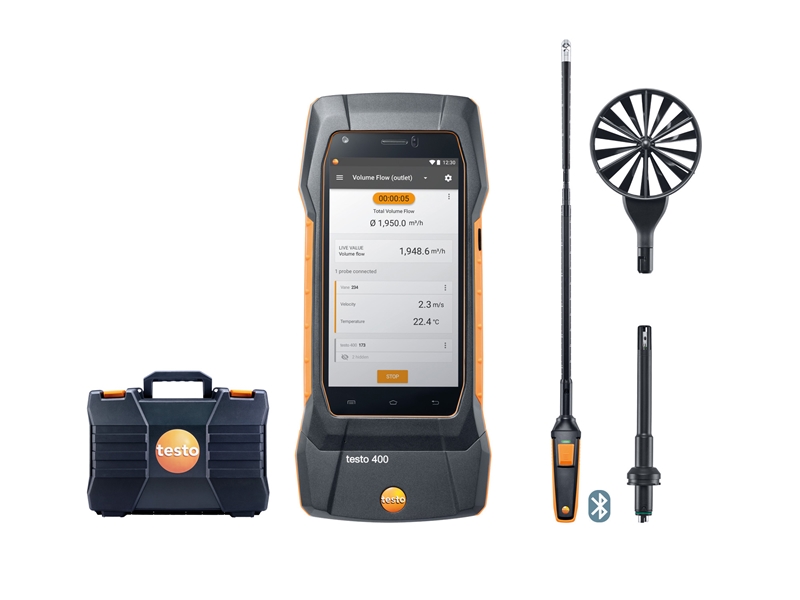 Testo's 400 offers a comprehensive solution to a range of IAQ testing needs.
What makes the testo 400 solution stand apart in IAQ assessment?
Analogue IAQ monitoring solutions, while working well in isolation, don't offer the same level of data logging flexibility. An all-in-one solution, such as Testo's 400 instrument, streamlines this lengthy testing into a simple, quick and cost saving activity.
When testing indoor environments, technicians can forgo the tool bag for the testo 400 as it can log data for any application. A variety of additional air flow probe kits are also available for even more compact testing. IAQ assessment has never before been possible like this.
For more information on the new testo 400 instrument, as well as the comfort volume flow kits, simply contact the team today. Our advanced offering can now be tested at selected distributors onsite with no obligation to purchase.
Please follow and like us: