Food production has increased nationwide by an average two per cent annually from 1988-2017, raising the industry's value to $117 billion according to the Australian Bureau of Agricultural and Resource Economics and Sciences. Higher production for the nation's growing population means more demand for cold chain storage facilities. This has contributed to the 1,758 warehousing businesses now in operation across Australia (IBISWorld).
But operators need to be able to accurately monitor ambient conditions in their food storage facilities for their enterprises to flourish. This data collation has to be consistent and intuitive without creating unnecessary processing. That's where a digital solution capable of monitoring all relevant environmental conditions, such as temperature and humidity levels, plays a deciding role in the success or failure of a cold chain warehousing organisation.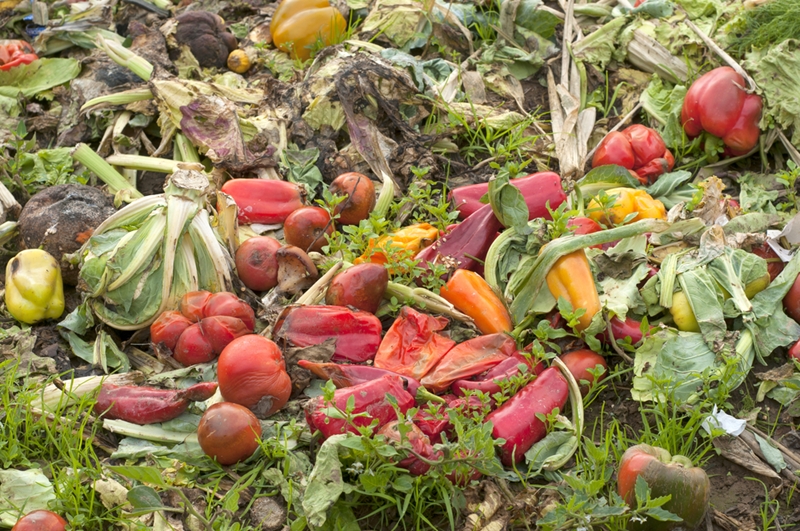 Preventing food deterioration and waste is a crucial element of cold chain storage.
What ambient conditions do cold chain operators need to monitor?
Depending the perishable goods being stored, cold chain operators will have different conditional parameters to meet. This is informed by both the stored products themselves and by various organisations which govern goods safety and quality compliance regulations.
Safe Food Australia (under Food Standards ANZ) specifies the environmental conditions in which perishable and non-perishables need to be stored. The guide specifies two decisive parameters that need to be maintained and monitored in order to reduce the risk of food becoming compromised:
1) Temperature. Conditions outside of a specific range can harm quality. Safe Food Australia specifies that refrigerated goods should be chilled in temperatures between zero and five degrees Celsius – any warmer and the risk of bacterial growth is higher.
2) Humidity. Excess airborne moisture can lead to bacterial build up and rotting. Safe Food Australia states that any food left in overly humid conditions for more than four hours should be disposed of immediately.
Monitoring these two factors in cold chain storage is a primary concern. But what instruments offer comprehensive data logging and collation ability to meet this demand?
Testo's comprehensive cold chain solutions
testo Saveris 2-H1 data logger
Testo's Saveris 2-H1 logger allows you to monitor temperature and humidity in any conditions with the use of integrated probes for a longer sample period of ambient data. This data is processed and transmitted directly to Testo's data storage cloud platform via WiFi. These readings are then immediately accessible from any smart device or PC at any time.
Users can preset limit value alarms to alert them to when cold chain storage conditions reach temperature or humidity levels outside of acceptable ambient parameters. With a notification sent via email or SMS message, operators have immediate information on equipment failure or operational processes compromising food safety and quality.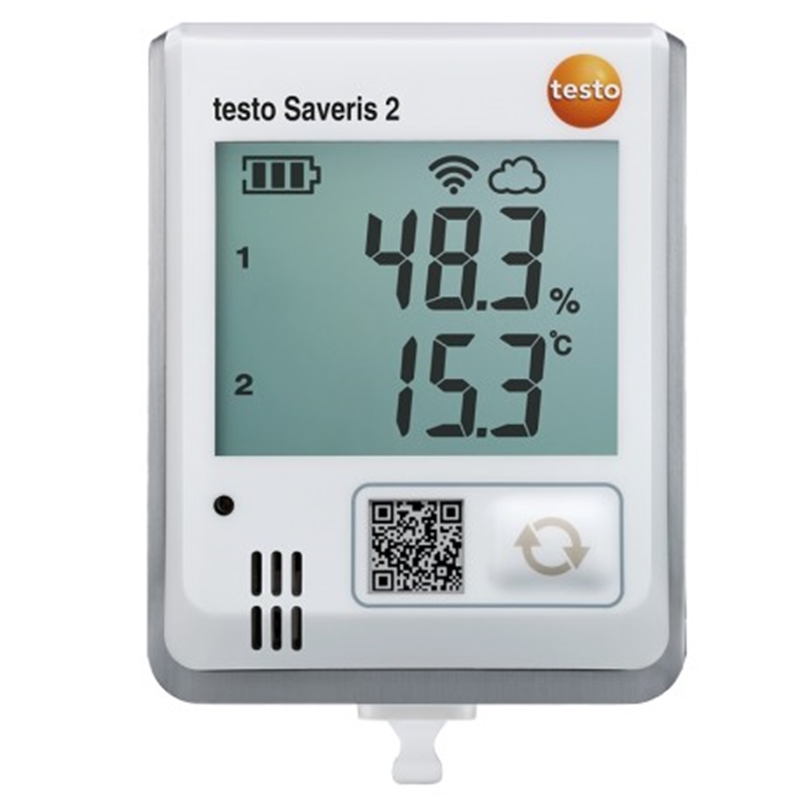 testo Saveris 2-T1 with integrated NTC temperature probe
The testo Saveris 2-T1 possesses much of the same data processing and intuitive digital features of the above solution. However, this instrument also includes a NTC temperature probe for more reliable probe testing for core temperatures of perishable goods.
Using Testo's online data processing app, users can create reports and data charts in a number of formats, with this information shareable on different smart devices and computers. This way operators get a total overview and instant access to all food safety and quality data.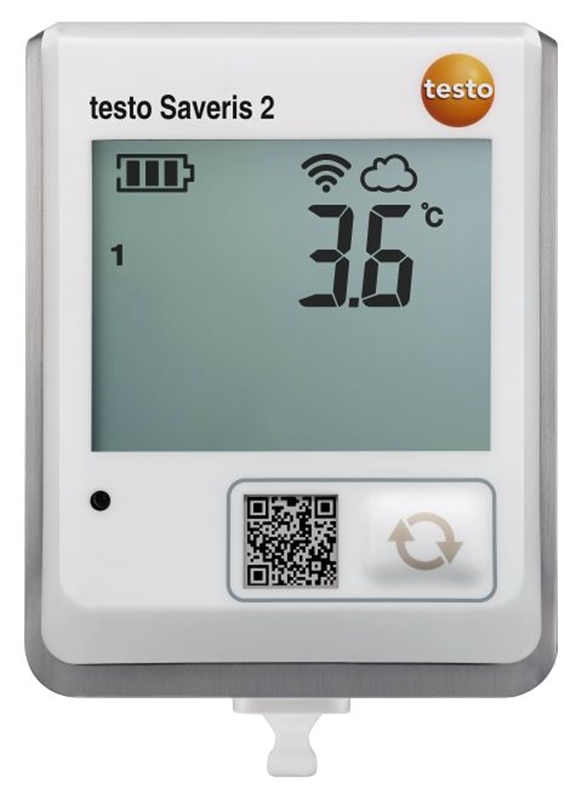 The testo Saveris 2 T1 offers an integrated NTC temperature probe, along with the digital data processing abilities you expect from Testo instruments.
Accurate data collection, simple integration with operations, intuitive digital functionality. These leading features are integral to our whole line of storage monitoring solutions, offering warehousing managers unparalleled data gathering ability to help improve operations. If you're ready to get change underway in your cold chain business, contact the Testo team.
Please follow and like us: