The refrigeration equipment servicing industry is a core component of blue-collar employment in Australia. The Federal Job Outlook database shows that close to 30,000 workers currently operate as technicians nationwide. The above sector forecast shows that employment opportunities will remain stable where other industries will stumble in the next few years.
This means there is no time like the present to enter the industry. But are digital refrigeration testing and temperature monitoring instruments key to further future-proofing the sector?
Why use digital monitoring instruments?
Experienced refrigeration technicians who have been using the same analogue instruments for years may find themselves outdated unless they embrace the digital solutions newer workers use. Digital refrigeration gauges offer operators the ability to work smarter, not harder, when completing routine pressure testing and temperature monitoring tasks. These modern solutions, when supported by experts in refrigeration servicing products, are more:
Precise – Digital gauges are designed to provide accurate data readings, no matter the application. Multifunctional instruments allow technicians to accurately record and collate various data points without the risk of manual operation error.
Durability – Modern instruments are designed with future-ready accessibility in mind. Equipped with advanced data-driven software, digital solutions can be updated periodically and integrated with smart devices to more easily share information.
Ease-of-use – Digital solutions are more adaptable to a variety of applications, enabling technicians to perform multiple tests simultaneously.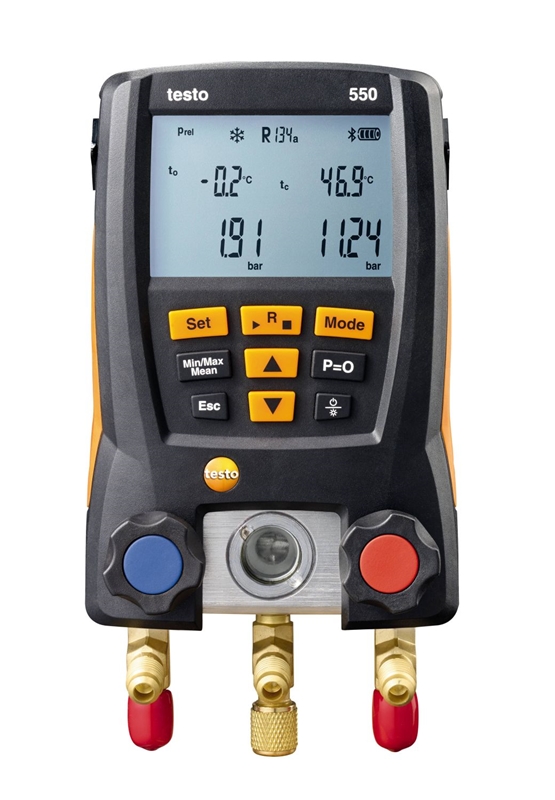 Testo's smart gauges – towards a digital future
Testo offers a range of digital solutions to help refrigeration technicians meet the needs of an industry on the rise.
The testo 550 refrigeration gauge
Testo's 550 refrigeration gauges instantly display superheat and sub-cooling data for up to 60 refrigerant data points. This makes testing for refrigeration parameters seamless. It also measures pressure information and temperatures, encompassing a complete equipment servicing solution.
The digital solution combines the best of both rugged housing around the display to protect the digital manifold from impact and onsite reporting and data monitoring via the Testo refrigeration smart device app. This makes the testo 550 the best instrument for most jobs.
The testo 557 digital refrigeration set
The testo 557 digital manifold fulfils numerous functions required for the complete servicing and maintenance of refrigeration systems in just one instrument. This includes temperature data calculation, vacuum measurement and leakage testing.
The set also includes two clamp temperature probes to reliably measure the surface temperature of refrigeration equipment, meaning all data produced is more reliable than with analogue solutions.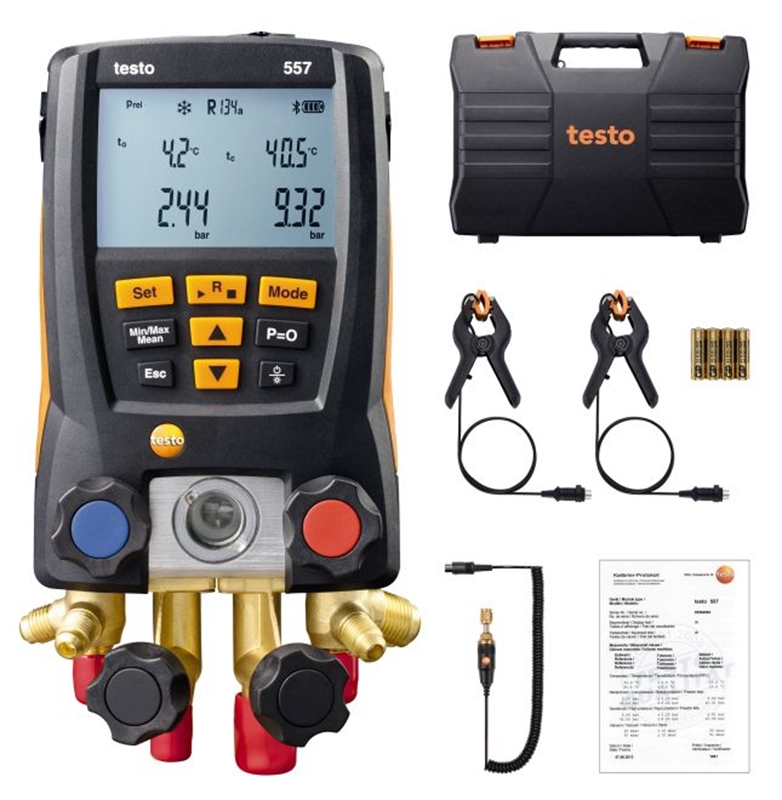 Testo's 557 refrigeration set is a complete refrigeration testing solution.
The testo smart probe refrigeration set
This complete Testo set is crucial for more accurate testing and servicing on refrigeration systems. The robust and padded smart case enables convenient and secure transport of all measuring instruments. Meanwhile, the hose free application minimises refrigerant data loss and makes it easier to select the correct refrigerant.
For more information about our refrigeration testing solutions, contact the Testo team today.
Please follow and like us: