Digital cold chain measurement instruments mean food safety practice compliance is no longer a goal. Instead, ticking the right boxes can become second nature – with the right solutions.
Without sophisticated quality control, food industry businesses risk being left behind by digitally advanced competitors who can more easily reduce the risk of compromised perishable goods. Operators using compliance measuring instruments won't just avoid the chance of exposing food to degradation – they'll be able to do so more flexibly than ever before.
Australian food safety compliance standards
Cold chain businesses are bound by Australia and New Zealand's food safety practices and general requirements legislation. These standards govern how to store and handle perishable goods. If these standards are met, food is less likely to become unsuitable or unsafe for consumption.
On top of these formal standards for food storage, processing and dispatch, many organisations will have their own safety practice compliance regulations to ensure perishable goods remain of the highest quality. To track the condition of food in their care, business operators need to conduct ongoing checks of parameters such as temperature, humidity and light exposure.
For example, Division 3, Section 5 (3) of the ANZ Food Standards Code specifies that businesses receiving potentially hazardous food need to take all measures to ensure they only accept goods at five degrees Celsius or below, and 60 degrees Celsius or above.
These are only a few factors from the long list of safety needs. Contemporary and effective food management is therefore essential to make meeting compliance second nature.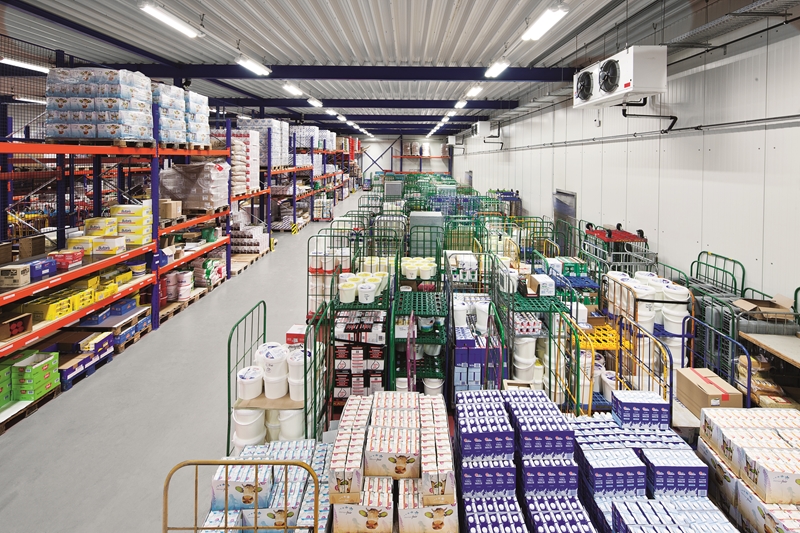 Perishable goods need to be stored in strict temperature and humidity controlled facilities.
Streamlining stock management processes
Food management processes in a number of enterprises have never been fully updated in line with the modern capabilities of cold chain monitoring instruments. Even when advanced digital solutions are used, food safety practice compliance data is often still recorded on paper. In-house research from our 'Digital Solutions for Food Quality Management' whitepaper shows the average Australian supermarket uses roughly 1,000 sheets of paper monthly for quality checks. This comes from a single site, and doesn't account for any other documents.
Digital instruments that totally automate the stock management and quality control process hold the key to:
Testo's Saveris food solution
Goodbye to paper
Using digital instruments to take measurements and then recording data manually on paper is a waste of the software-driven potential of modern food quality control. Testo's Saveris solution means operators can cut paper consumption for stock checks by up to 90 per cent.
This not only saves businesses the cost of paper and printing, but also reduces the administration time of organising and filing documents. Instead, all data points are recorded and logged within the testo Saveris.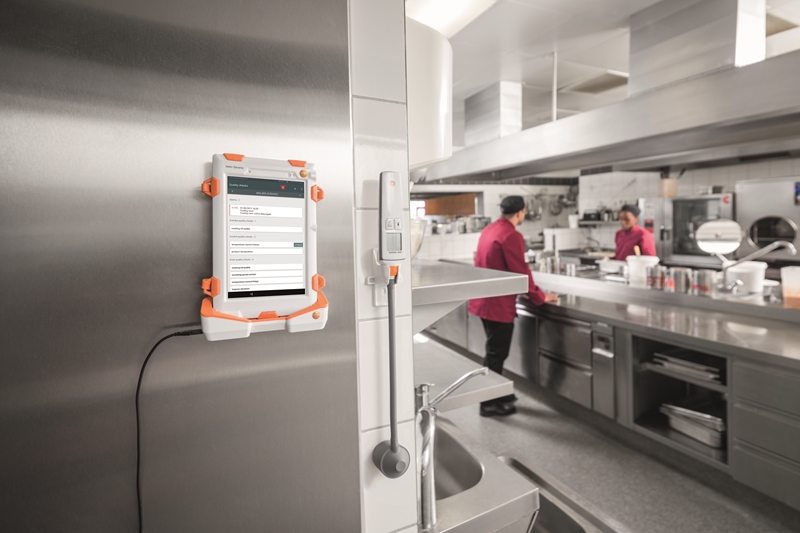 Testo's Saveris makes paper recording a thing of the past.
Error-free measurements
Manually recording notes from a data logger is risky because it's easy to incorrectly transcribe the wrong information. Making compliance second nature means there can be absolutely no room for mistakes – and with Testo's Saveris instrument, there is none.
Users simply perform measurement tasks and all data is collated and stored for the future. This doesn't just reduce the risk of inaccuracy, it also means operators can perform intuitive data analysis and decipher critical patterns in, for example, spikes in humidity levels. Armed with a better understanding of the environmental conditions that could affect stored foodstuffs, cold chain businesses can reduce waste and make data interpretation quicker.
Streamlined business processes
As mentioned before, this reduced risk of errors through Testo's advanced Saveris solution also allows operators to interpret stored measurement quicker and easier. Additionally, users can seamlessly share all recorded data with others via PDF reports sent through email or transferred over Bluetooth.
All relevant parties can check food safety practice compliance whenever needed without having to search through paper filing systems. The testo Saveris offers users all the capabilities to streamline cold chain processes to its most simple incarnation.
For more information about Testo's Saveris solution, contact the team today.