Australia's museums, art galleries and archives play a vital role in building our national identity. Without relics of cultural significance from our past, we'll slowly lose what it means to be Australian today. That's why preserving the collections of the nation's cultural organisations is so vital – but to do so, conservationists have to be equipped to meet the dangers to Australia's artifacts.
What are the main dangers to Australia's museum collections?
The Smithsonian Museum Conservation Institution considers two main factors when displaying and archiving collections: temperature and humidity. These two elements can have a devastating effect on all kinds of materials, ultimately hastening long-term deterioration.
High temperatures can contribute to decay in organic materials such as wood and paper, while low temperature can damage rubber. Frequent changes in environmental conditions will also rapidly reduce the resilience of stored collections. Excessive humidity, meanwhile, can contribute to rot by providing ideal breeding conditions for bacteria and fungi.
Additionally, there is no one ideal storage climate for all artifacts – as such, heating, ventilation and air conditioning (HVAC) conditions need to be managed with climate monitoring equipment across different environments.
Excessive temperatures and moisture levels can contribute to more rapid deterioration of priceless collections.
Controlling museum and gallery conditions
HVAC technicians and building management systems need to work hand-in-hand to better manage display and storage conditions. Here lies another challenge – while the ideal environment for storing collections may have one temperature and humidity level, these figures may not be comfortable for public access. If people can't view the artifacts, a display is pointless.
This means collections often have to be rigorously monitored when on display to ensure nothing is compromised by variations in temperature and humidity. For example, an entrance door constantly being opened and closed can alter the conditions in a display room and lead to deterioration.
While building management systems can automate temperature and humidity control to a point, manual testing is still vital to ensure the long-term health of historical collections. Additionally, more in-depth data monitoring can improve how collections are monitored by offering archivists real-time information on how items are stored.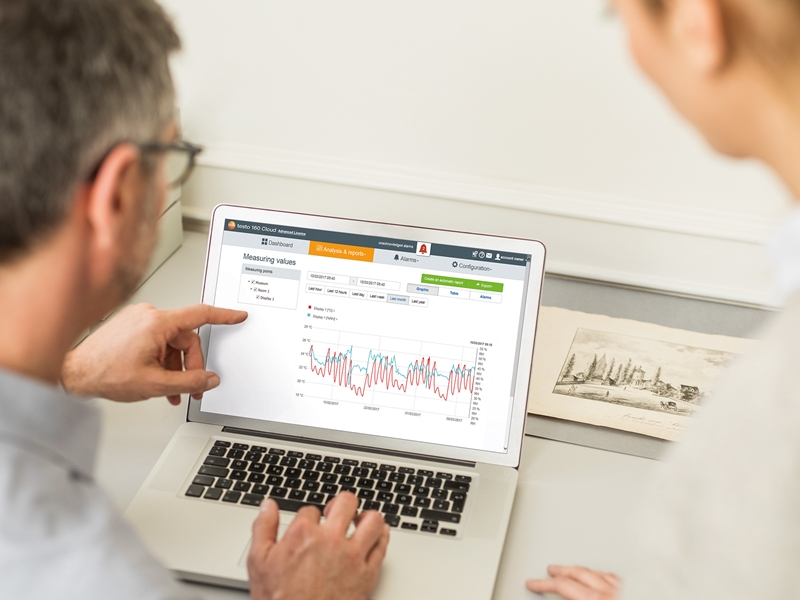 The testo 160 Wi-Fi data logger gives conservationists a more in-depth look at the conditions cultural artifacts are stored in.
Addressing the dangers to to Australia's historical artifacts
Testo's 160 Wi-Fi data logger offers archivists and historians the all-in-one climate monitoring solution to check temperature and humidity levels in key locations. This make it easier than ever to assess ongoing environmental conditions and make changes to improve the shelf life of Australia's priceless cultural collections.
The testo 160 is capable of logging temperature and humidity levels to tailored, pre-set parameters, giving you ultimate control over how items are stored and displayed. The device also comes with two external probe connections. This allows for easier mobile testing of conditions that your collections may face.
Preserving the future of Australia's past relies on experts in the industry backing themselves with climate monitoring tools designed just for them. For a more in-depth look into what the testo 160 Wi-Fi data logger can offer, contact the Testo team today for assistance.
Please follow and like us: