You've heard the saying 'work smarter, not harder', but there are few who can truly help you achieve this. Testo envisions a world that combines efficiency and intelligence – Testo envisions a Smart World.
The Smart World of Testo
We're the world leader in instrumentation and solutions for HVAC, food, pharma and emissions measurements – our tools give you the ability to bring these analyses into the digital world without sacrificing quality.
We understand how specific these industry measurements can be, that's why we've created a system that you can rely on for accuracy. The tailor-made apps make it easy for you to work your way around the menu and provide automatic updates with fewer errors than analogue tools. Beyond that, however, if our tools detect an issue, the data is sent live via our automatic transmission to the person who can take care of the situation immediately before it becomes a problem.
You see, our tools and applications are designed to improve the efficiency of your day-to-day, saving you not just time, but money as well – just see how Testo 550 and 557 do it.
Testo 550 refrigeration gauge
This digital refrigeration gauge measures and instantly displays superheat and sub-cooling of up to 60 refrigerants, and also measures high and low side pressures and temperatures. Its metal frame around the display protects the manifold from impact so you can trust that your data is safe even in rough conditions or handling.
Its Bluetooth and app integration makes for easy monitoring and report generation that can be shared via email.
Testo 557 digital refrigeration gauge with vacuum probe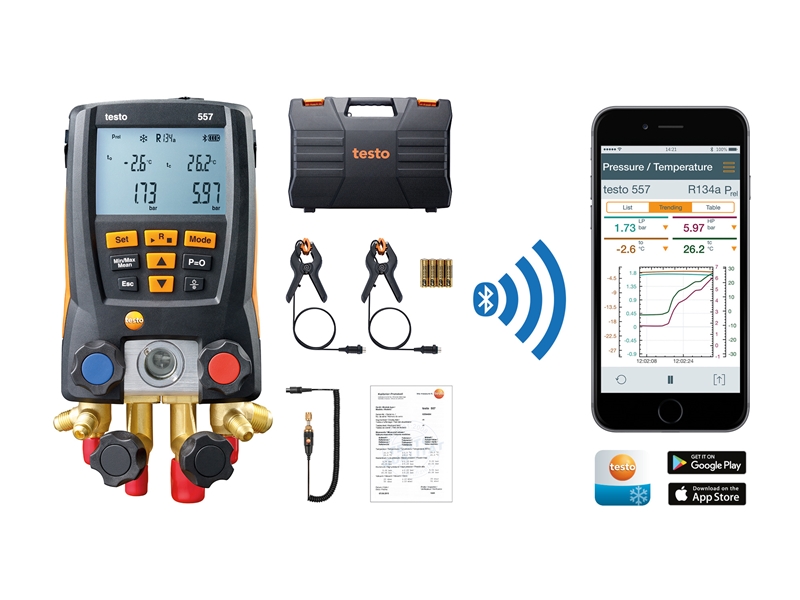 This digital refrigeration gauge and probe works for a number of different functions as it can be used on refrigeration systems and heat pumps. This state-of-the-art technology automatically calculates and delivers accurate measurement results of up to 60 refrigerants. You also get a precise external Pirani gauge for vacuum measurement with the digital manifold making it easier to evacuate refrigeration systems and heat pump.
The manifold comes with an easy-to-use app that connects to your smartphone or tablet so you can stay on top of your work even from a distance. Once you have the results, you can easily convert them in PDF or CSV and send them via email as well.
Testo at ARBS 2018
You can come learn more about our products and our idea of a Smart World at this year's Air Conditioning, Refrigeration and Building Services (ARBS) Exhibition. We'll be in the exhibition centre at stand 1179-1180 so you can come talk to us and try out some of tools first hand.
Additionally, our National Sales Manager Angelo Rengarajah will be running a presentation in the product presentation theatre on May 8 at 11 a.m. talking specifically about the Smart World of Testo.
Come visit us at ARBS or, in the meantime, reach out to our team today and learn more about how our products can improve your job.
Please follow and like us: