In the field of refrigeration, accuracy is important. For the technicians and engineers installing new systems and carrying out regular maintenance, measurement tools must deliver accurate readings in order to ensure the job is done correctly.
It's easy to see why this is important: adjusting a refrigeration system based on inaccurate pressure readings, for example, could lead to further inefficiencies.
Thankfully, Testo have a capable, reliable and adaptable set of refrigeration tools – tools that use smartphone connectivity to make operation as easy as possible.
Smart Probes Refrigeration set
The right measuring equipment is paramount for professionals, in any industry. There's a need to ensure that the gear being used on a daily basis can stand up to the rigours of work in the field and deliver the necessary information whenever it's required.
The testo AC/R Smart Probe Set combines four different instruments into a single set to measure both high- and low-side pressures, as well as temperatures. It's an adaptable set – users can configure the tools to use them during commissioning, servicing and troubleshooting these systems.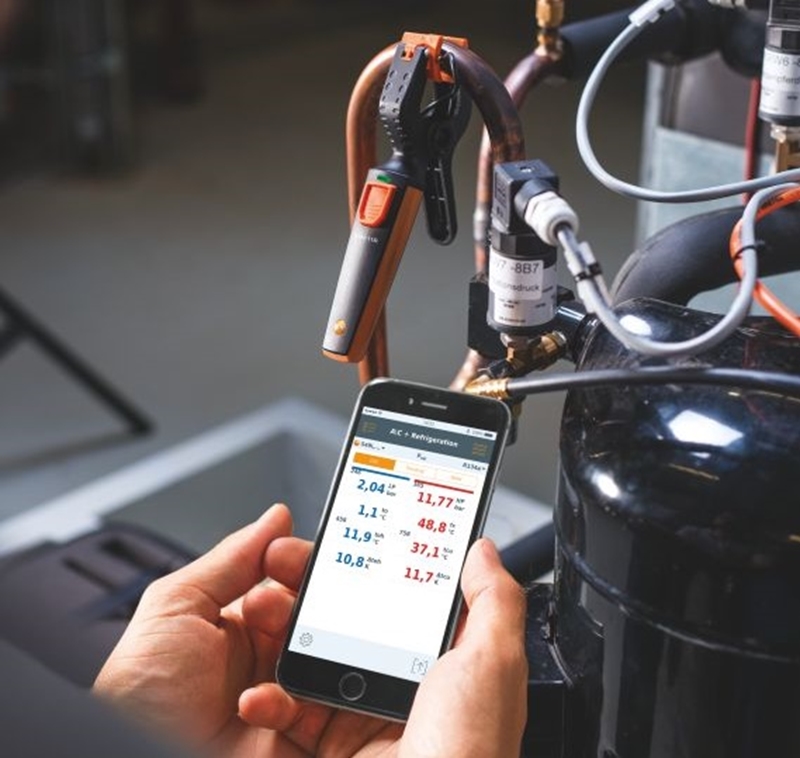 The testo 115i and the testo 549i included in the set can be set up quickly and then operated with ease, directly at the temperature measuring point or pressure connection point. What's more, no hoses are required for measurement, an aspect that can help to reduce refrigerant loss.
The included Smart Case with a foam lining means transporting the tools is both easy and safe.
What's included
Two testo 115i clamp thermometers, including batteries and calibration protocol.
Two testo 549i high-pressure measuring instruments, including batteries and calibration protocol.
The testo Smart Case "Refrigeration", including a foam insert to keep the tools secure.
So, it's fully featured and highly capable, but there's one more aspect users are surely going to appreciate – smartphone connectivity. With this powerful feature, these devices become even more powerful and capable.
Smart connectivity with the Smart Tools app
These measurement instruments can be connected to a smartphone or tablet via Bluetooth, using the Smart Probes app, in order to access an entire array of features.
With the app, it's possible to easily service and troubleshoot refrigeration systems, air conditioning systems and heat pumps.
Once paired to the app, both instruments in the set transmit data wirelessly to the Smart Probes app. Users on a tablet or smartphone can view the data in either chart or table form – and they don't even need to be standing next to the instrument. This makes operation significantly easier than monitoring the device itself, as users can instead stand within range and monitor readings.
Further practical functions include:
Timed and multi-point mean calculation
Volume flow configuration
Pressure drop tests
Email compatibility: Users can send data as a PDF or Excel file directly to an email address.
Of course, it's also important to understand compatibility. These devices connect to smartphones and tablets using Bluetooth, where they can then connect to the app. The Smart Probes app works across iOS devices (iPhones and iPads) and Android (phones and tablets).
Get in touch with Testo
Smart tools can make the job of a refrigeration technician much easier. While the instruments themselves are highly advanced and reliable, it's the app integration that elevates the tools above the competition.
If you'd like to learn more about the testo AC/R Smart Probe Set, don't hesitate to get in touch with us today.
Please follow and like us: