If there's one thing everyone in the working world takes for granted, it's the quality of the air and ventilation system that provides them with clean breathing air every day.
Of course, if you're an HVAC technician that means you're doing your job correctly.
Importance of good working conditions
Monitoring these conditions is a very particular process.
Commercial buildings are closed environments which means if there is a virus floating around it's easy for everyone to get it. Or, if sunlight comes beaming through the window, it can instantly alter the temperature of a room, especially if the windows can't be opened. Both can make for uncomfortable working conditions, hurting productivity and efficiency of businesses within.
In order to control something like a virus, or any disturbance that could affect the productivity of those inhabiting a commercial building, HVAC technicians must closely monitor the indoor air quality (IAQ).
Good IAQ is a direct result of ventilation practices which requires testing the following factors regularly:
Temperature;
Humidity;
Carbon monoxide (CO);
Volatile organic compounds (VOC);
Absolute pressure.
Next, to control the even flow of air around a building, technicians must review air balancing. This considers the direction the building is facing. A room in the north, for example, would get more sunlight and therefore more heat than the other directions. This means that normal air conditioning levels won't be enough to keep that side of the room cool. However, cranking the AC up won't work for those in the south, east or west part of the building.
Air balancing measures air flow with velocity instruments in order to find and adjust to an equilibrium that works for every room.
Of course, monitoring these conditions is a very particular process, so it's important HVAC technicians have reliable, state-of-the-art tools to do so. That's where the testo 440 comes in.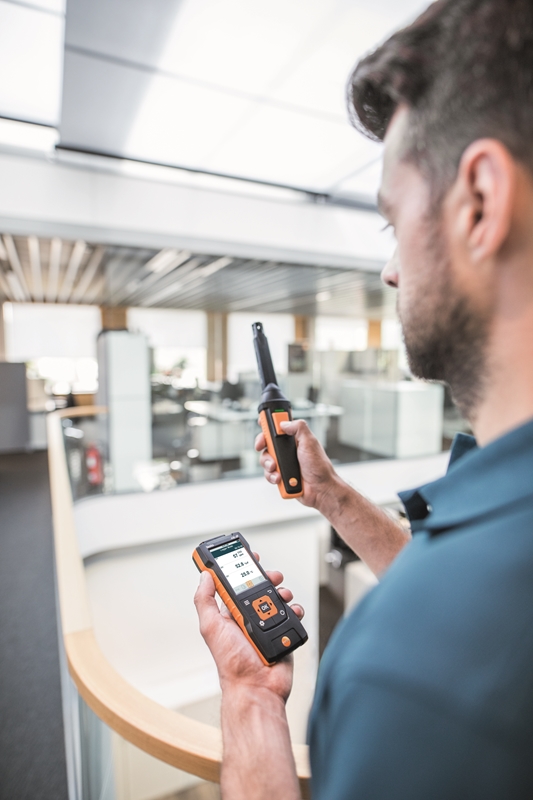 Measuring air velocity and IAQ with testo 440
The testo 440 was designed with HVAC technicians in mind. It has an intuitive menu that measures volume flow, K factor and degree of turbulence, heating/cooling output, mould detection and long-term measurement, all of which can be programmed into the instrument. The data it collects is sent wirelessly via the Bluetooth probe to the testo 440 – fewer cables means greater efficiency for your day-to-day.
Best of all, this velocity and IAQ measuring instrument is suitable for all air-conditioning applications reducing your need for other devices. The probes can be flexibly extended so you don't need other accessories or probes, and the testo 440 doesn't need to be calibrated so there's no downtime.
Interested in learning more about the testo 440 and its ability to improve the IAQ of the commercial building you look after? Contact the team at Testo today.
Please follow and like us: