Here at Testo, we're always looking for ways to improve the functionality of our measurement devices. Often, that means working on the products themselves, figuring out what works well and where there is room for improvement, and regularly updating and developing our solutions.
As the world moves more towards a hyperconnected digital future, however, we occasionally look beyond our own equipment to external technology we can integrate. The prevalence of smartphones and tablets is one such area, and technicians using the testo 420 Volume Air Flow Hood to test and maintain HVAC systems can now enhance their effectiveness with the handy accompanying mobile app.
When used with our mobile app, the testo 420 delivers highly precise results.
Using the testo 420 app
Designed to help technicians measure flow velocity, volume flow, absolute pressure, temperature and relative humidity of HVAC systems, the testo 420 delivers highly precise results through an integrated volume flow straightener for uniform air flow.
The instrument itself features an integrated 3.5 inch display, with illumination for low-light. For many situations where real-time measurements are required, the display will suffice; however, for added functionality and reporting capability, the testo 420 app – available on both iOS and Android – adds a greater level of sophistication.
With simple Bluetooth connectivity, our mobile app becomes a terrific additional tool to include in a technician's kit – all within a device you're already carrying to each job.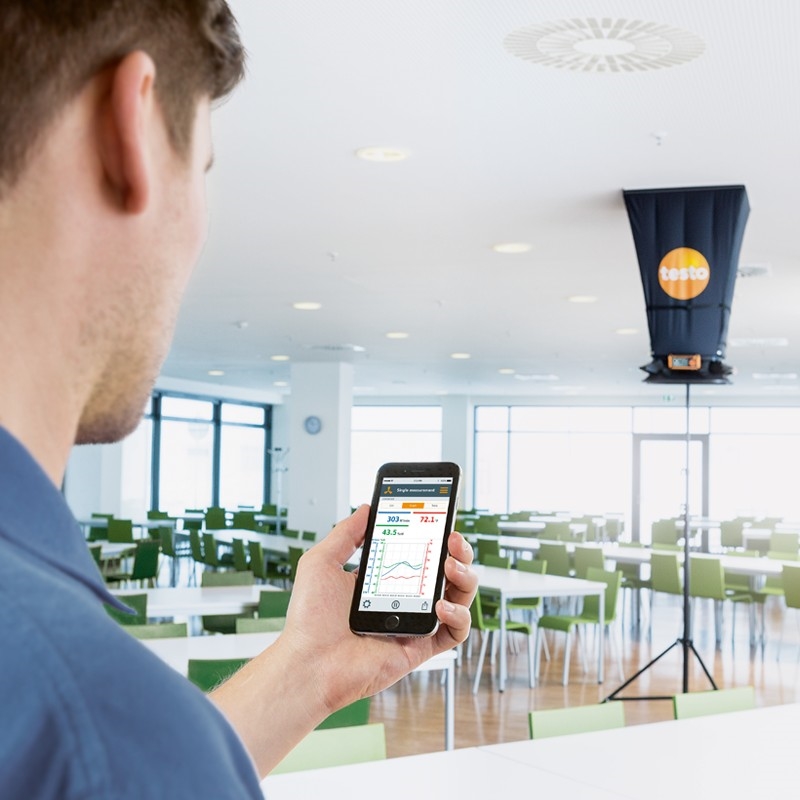 Features of the testo 420 app
Working alongside the 420 Volume Air Flow Hood itself, the app provides a range of useful features, including:
Shows current measured values on your smart device.
Precise calculation of volume flow and air exchange rates.
Graphical trend display allowing users to identify fluctuations in the HVAC system.
Creation of measurement reports, in either PDF or Microsoft Excel (CSV) formats – or both, depending on your requirements.
Ability to insert photos and comments directly into reports using smart device camera technology.
Saving reports to mobile or cloud storage, or instant sending to other stakeholders over email.
With a Bluetooth low energy communication range of around 20 metres, use of the testo 420 app with the Volume Air Flow Hood can allow much greater freedom of movement for technicians, while the reporting capabilities increase efficiency and help you get the job done faster.
Speak to Testo today about the 420 Volume Air Flow Hood and its accompanying app.
Please follow and like us: