Where building management is focused on management of a complex on behalf of owners or landlords, facility management takes more of a people-first approach. Each role is critical for the day-to-day function of a building, and despite multiple differences between the two, both essentially have the same goal – sound, safe management practices.
Another commonality? The need for top-tier thermal imaging.
How thermal imaging works for facilities management
With more than 90,000 people employed across 100 businesses in facilities management at IBISWorld's last count, industry players have a massive breadth of responsibility. Chief among this is ensuring warm, dry, safe facilities for residents or staff. With Testo's range of thermal imaging devices, managers can:
Identify pipe leaks with unerring accuracy and without intrusion into walls.
Get clear, accurate imaging of underfloor piping without opening up floorboards or drilling into concrete.
Trace the entire layout of an underfloor heating system and ascertain its quality.
Monitor radiators both before and after flushing.
Inspect concealed boiler flues.
Any one of these tasks can be costly and challenging without thermal imaging devices like the testo 871 and testo 872. Leak sources are difficult to identify, and managers often use intrusive (and expensive) methods to properly gauge the quality of any underfloor or in-wall systems in their building.
Take out the repetitive, costly labour – use thermal imaging.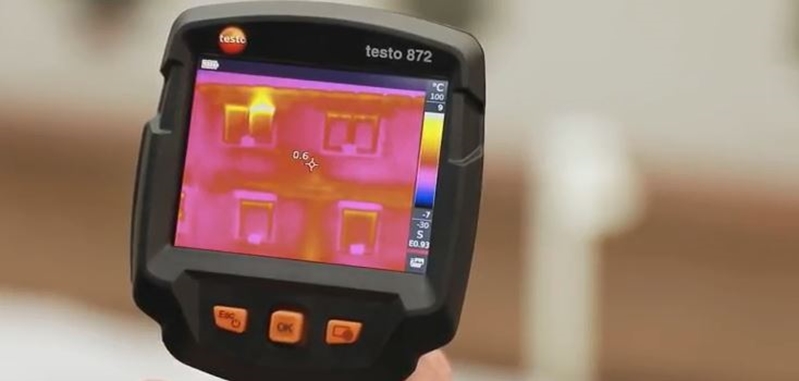 Thermal imaging is ideal for facilities management.
The benefits of Testo's thermal imaging for facilities management
Purchasing a thermal imaging device for your facility can be a significant investment – but the long-term cost savings will often outweigh this initial outlay. This comes in three forms.
Firstly, using the testo 871 or testo 872's high-quality thermal imaging display and detection systems reduces time spent finding the source of leaks by a matter of hours. Over years, this can add up to a massive amount of time savings, and in turn builds better relationships with residents.
Secondly, the lack of invasive methods in detection cuts many costs in the form of unnecessary excavation work – which also means less disruption for both staff and residents.
Thirdly, thermal imaging's efficiencies mean that facilities have less downtime, increasing customer or resident stay times and helping to maximise ongoing cashflow.
Of course, for all of this to take place, you must ensure that your thermal imaging equipment is the best available. Testo's range of products are designed for the clearest imaging, the simplest software integration and the best results for your organisation. To discover how thermal imaging can improve your facility, get in touch today.
Please follow and like us: